Vielseitig von Jazz und Rock bis hin zu Funk und Country
(English Version below…)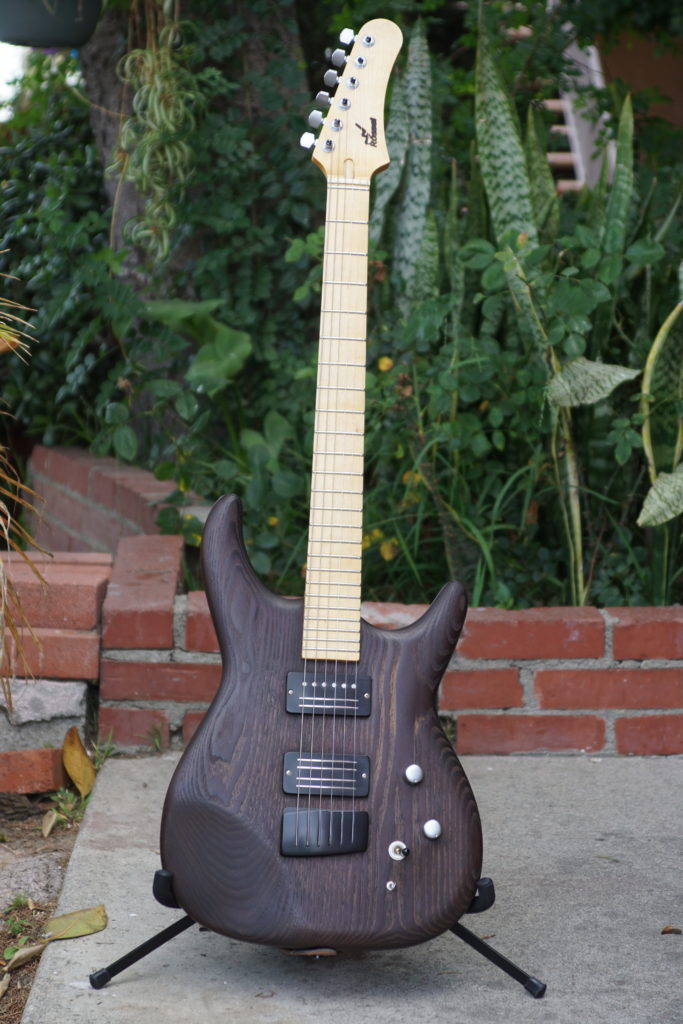 Gitarrenbauer Fritz Rössel, mit dem ich seit mehr als 30 Jahren eng befreundet bin, hatte (mal wieder) eine gute Idee. 'Warum baue ich nicht einfach mal etwas speziell für Alex?', sagte er sich, und gesagt, getan, machte er sich ans Werk.
Heraus kam dabei die Multivar. Und hier ist warum sie die ideale Gitarre für mich ist: Niedrige Saitenlage, leichte Bespielbarkeit, 24 leicht erreichbare Bünde, und alle Klangvariationen von Telecaster Country-Twang und Funk bis hin zu Rock und fettem Jazz. Und das alles unter drei Kilo Gewicht für den beschäftigten Musiker. Ich bin überwältigt.
Eine geleckte Schönheit mit Hochglanzlackierung und vielen bunten Farben ist die Multivar allerdings nicht. Sie ist eher ein Arbeitstier bei dem man nicht auf die Lackierung achten muss. Herumwerfen würde ich sie nicht, aber ich schaue auch nicht bei jedem Gig nach, ob der Lack nicht eine Delle abbekommen hat, so wie bei meiner Fairytale Savage, die in transparentem Rot hochglanzlackiert ist…
Der Body der Multivar, aus gebackener Esche (Ash) ist geölt und damit hat es sich. Ebenso der Hals, der für mich absolut genial bespielbar ist. Sogar Soli, die mir bisher eher schwierig erschienen, spielen sich auf dem eingeleimten Ahornhals fast wie von selbst. Die Multivar hat gutes Sustain und faszinierende Klangkombinationen mit dem "Freeway Switch", der aussieht wie ein regulärer Drei-Stufen-Schalter, aber sechs verschiedene Schaltstellungen bietet. Und zusätzlich gibt es einen Mini-Toggle-Schalter, der den hinteren Tonabnehmer entweder abschaltet, oder als Single Coil oder Humbucker hinzufügt.
Als Gitarrist ist mir die klangliche Ausgewogenheit einer Gitarre mittlerweile mit am wichtigsten. Wenn bei einem unverzerrten Solo auf einmal die Noten auf der G-Saite laut herausstehen oder die hohe E-Saite im Zusammenhang weniger zu hören ist, nervt es mich mehr als mich ein besonderer Klang beeindrucken kann. Und die Multivar hat beides: Ausgewogenheit und – wie oben bereits kurz beschrieben – eine Vielfalt von faszinierenden Sounds. Und wie Fritz zu Recht betont, "Alle brauchbar".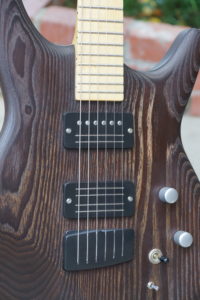 Die Saiten sind Rössel-Werkseitig D´Addario NYXL 10´s. Als US Beta-Tester dieser Saiten spiele ich die NYXL bereits seit geraumer Zeit. Meine 10er Besaitung sieht allerdings folgendermaßen aus: 10, 12, 16, 26, 36, 46. Aber auch mit der Original-10er Besaitung, die sich zum Zeitpunkt der Entstehung dieses Artikels noch auf der Multivar befindet, ist die Gitarre phantastisch bespielbar und klingt ausgewogener als meine anderen Arbeitsgitarren.
Meine beiden Arbeitsgitarren, die ich bisher genutzt habe und natürlich auch weiterhin nutze,  können auch sehr viel. Die "Guild S-300 SD Alex Hast" ist hier ausführlich beschrieben: http://www.alexhast.com/?page_id=90 . Kurzbeschreibung: Mahagony Body, eingleimter Hals mit Ebenholz-Griffbrett und zwei Seymour Duncan SH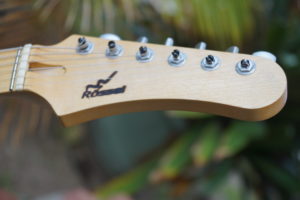 -3 Stagmag-Tonabnehmern die mit Jimmy Page-Schaltung alles beinhalten von Out-of-Phase bis hin zu gnadenlosen zwei Humbucker in Serie. Alles natürlich mit vier Push-Pull-Potis Singlecoil/Humbucker plus extras, und dann noch mit einem Dreifach-Switch schaltbar. Und die andere ist meine Fairytale Savage (auch aus der Fritz Rössel-Werkstatt) mit drei aktiven EMG Singlecoils, Swamp-Ash body (Esche) und Ahorn-Hals mit Rosewood Griffbrett.
Beide Gitarren haben die Sounds, die ich mag, aber keine hat diese drahtige Präsenz der Multivar. Und beide haben schnelle Hälse, aber erstaunlicherweise lässt sich die Multivar noch schneller bespielen. Ein handgebauter Traum, in dieser Form hat Fritz nur fünf Exemplare in seiner Werkstatt gefertigt. 2017 soll die Serie herauskommen, noch weiter verfeinert und verbessert. Der Preis soll noch knapp unter 4000 Euro liegen.
So, und hier nun die kalten Daten:
Brand: Rössel Guitars
Gitarrenmodell: Experience
Ausstattung: Multivar
Hals: Eingeleimt, Ahorn one Piece 24 Neusilberbünde + Sattelbund (Sattel Knochen), 25.5 inch Mensur (wie Fender Strat)
Korpus: Thermo Esche Zweiteiliger, handgeformter Body (perfect balanced Shape)
Tonabnehmer: Neck Häussel MVN-2C1VS, Bridge: Häussel MVB-4C
Mechaniken: Schaller M6L FR-1
Steg: Rössel Compense Bridge Cor.B.
Schaltung: Multivar III/I bis zu 3 Single Coils oder bis zu 3 Humbucker gleichzeitig schaltbar bzw. Kombinationen daraus.
Versatile from Jazz and Rock to Funk and Country
Boutique Luthier and Guitar builder extraordinaire, Fritz Rössel, with whom I have been close friends for more than 30 years, had a good idea (again)." Why not just build something special for Alex", he said to himself, and got to work. The result was the Rössel Experience Multivar. And here is why it is the perfect guitar for me: low string action, easy playability, 24 easily accessible frets, and all sound variations from Telecaster country twang and funk to Rock and fat jazz. And all that under three kilos of weight for the busy musician. I am overwhelmed.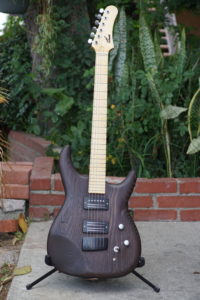 However, the Multivar is not a licked beauty with high-gloss finishes and shiny colors. She is more of a beautiful, genius everyday tool that has not to be tended to with white gloves. Other than my Fairytale Savage, which is glossy and transparent red on the swamp ash body… The Multivar body is ergonomically carved from baked ash, is oiled and waxed. The same goes for the maple neck which has  amazing playability.
The Multivar has great sustain and fascinating sound combinations with the "Freeway Switch", which looks like a regular three way switch, but contains six different switch positions. And in addition, there is a mini-toggle switch that either turns off the rear pickup, or switches it to single coil or humbucker setting.
As a guitarist, the tonal balance of a guitar is of high importance to me. When the notes on the G string  blast out loud during a clean solo in comparison with other strings, or the high E string is less audible, I'm more annoyed by that fact than I can impressed by a particularly good sound. In this case the Multivar offers both: balance and – as already briefly described above – a variety of fascinating sounds. And as Fritz rightfully emphasized, "All usable".
The strings Fritz Rössel installs originally are D'Addario NYXL 10's. As a US beta tester of these strings I have been playing the NYXL for quite some time. My 10 gauge string set, however, I usually modify like this: 10, 12, 16, 26, 36, 46. But also with the original 10 gauge strings, which are still on the Multivar at the time of this article, the guitar is fantastically playable and sounds more balanced than my other work guitars.
My two working guitars, which I have used so far, are also great and I continue to use them on certain gigs. The "Guild S-300 SD Alex Hast" is described in detail here: http://www.alexhast.com/?page_id=90 . Short description: Mahogany body, neck with ebony fretboard and two Seymour Duncan SH-3 Stagmag pickups with Jimmy Page circuit everything from out-of-phase to merciless two humbuckers in series. All of course with push-pull pots singlecoil / humbucker and extras, as well as a regular triple switch, and on-off for stage convenience.
And the other one is my Fairytale Savage (also from Fritz Rössel's Luthier Master workshop) with three active EMG single coil pickups, Swamp ash body and maple neck with Rosewood fingerboard.
Both guitars have the sounds that I like, but none has that wiry presence of the Multivar. And both have fast necks, but amazingly, the Multivar is even faster. A hand-built dream. Fritz produced only five copies in his workshop. In 2017 the series is to come out, further refined and improved. The price is slightly below 4,000 Euros.
So, and here is the cold data:
Brand: Rössel Guitars
Guitar model: Experience
Version: Multivar
Neck: glued in, maple one piece 24 nickel silver frets + saddle collar (saddle bone) 25.5 inch scale (like Fender Strat)
Body: Thermo-ash two piece body, hand-shaped (perfectly balanced shape)
Pickup: Neck: Häussel MVN-2C1VS, Bridge: Häussel MVB-4C
Tuners: Schaller M6L FR-1
Bridge: Rössel Compense Bridge Cor.B.
Circuit: Multivar III / I (up to 3 single coils or up to 3 humbuckers can be switched simultaneously or combinations thereof)