Ultimate Ears' UE7 – Sonic Bliss and Hearing Preservation
Since my bandleader had been hoping to ban my MESA Express 5:50 (for reasons of noise control) from our Stage, he was almost as happy as I was, when I switched to In-Ear monitoring with a Shure wireless monitoring set (P3TRA215CL). Listening to my (favorite) amp through the In-ears and realizing that the sound that comes through my amp-microphone (Sennheiser e609) is not better than the sound that I got through my TC-Helicon Voicelive3 amp simulation, I passed on lugging the amp to our gigs and went with the floor simulation. For the dirt I am still using a Mesa Throttle Box, but for the cleans I am fine with the VL3, since I can't hear the original sound of my MESA amp through my microphone anyway (and I can keep my bandmates happier).
I used the Shure IEM System for a few months and appreciated the reduced stage noise and a good sound. I was in control of the volume of my own monitors and cut out the noise from some fellow musicians, who turned their monitors up to "starting Jet-levels". I also had several talks with our amazing trumpet player Andrew Carney who is a proud owner of a set of Ultimate Ears' UE7. He made the case for these In-Ear Monitors and after a few weeks I decided to order one set for me. With a price tag of $850.00 plus tax it is more an investment than a fast purchase. Functional floor monitors start at about $200 (and I own several of them), in addition I had a set of Shure SE215 Sound Isolating Earphones which did not exactly sound bad, but the sound was cutting off at times in my ears with my movement on Stage and they did not really fit that well.
So I contacted Ultimate Ears in Irvine. I had done my research on their website http://pro.ultimateears.com , read reviews, and decided that since I am a singer, guitarist and keyboardist, I should opt for the UE7 version which is explicitly tuned for the frequencies you need to hear when you sing or play these instruments. After several conversations with Jazmin I decided to buy the UE7 and I drove south from LA to Irvine to have my In-Ear Monitors fitted.  The procedure is a digital scan that draws a 3-D map of each ear and is supposed to substitute for the impressions that are usually done by a professional audiologist. A procedure that interested musicians will have to use if they don't live in the vicinity of Southern California.  Well, in some cases the digital scans work, but in my case they didn't. The sound was too thin.  I could hear the important frequencies perfectly – but I could hear no bass in my custom-fit UE7s unless I pressed them onto my ears, which is problematic while you are playing guitar.
After several fitting corrections on my UE7s it was decided that I would see their local audiologist (for free) and have impressions made. A few days later I received my new UE7s and I have not looked back.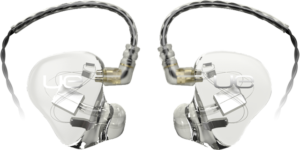 The sound is Hi-End and nothing less. I can hear my microphone – the large diaphragm condenser Sennheiser e965 – "breathing" with every sound, unforgivingly clear and direct. I would compare the IEM sound to Hi-End Studio monitors in a perfect environment. Having been a Hi-End fanatic with a 30k plus Home Stereo at times in my life and having been one pair of the "critical ears" for a manufacturer's shootout for a top quality D/A converter years ago, I have found my sonic paradise. Even though the UE7 are not tuned to "neutral", they provide exactly what I need on stage. With three balanced armatures working in each of my ears, I am one happy musician.
Ultimate Ears promised that they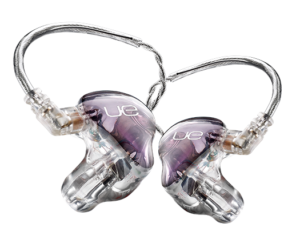 would not rest until I am 100 Percent happy with my experience, and they kept their promise. Thanks for that, thanks to Jazmin and Jen at Ultimate Ears for helping me every step of the way. And thanks to Andrew for encouraging me to go this route. Sonic Bliss!
For Studio Mixing and Mastering I am still thinking about a pair of their "UE Pro Remastered" High Resolution studio reference monitors that were developed in collaboration with Capitol Studios. It would be easy, since they already have my ear imprints on file, to get custom fitted IEMs in a matter of days, which is also an important argument for their customer support. If you break your IEMs on the road, they can ship new ones, perfectly fitted, in no time.  With a $999.00 price tag I will be thinking about the studio version a while longer. But no doubt, looking at the experience with the UE7s, it will be well worth the investment.
Alexander Hast